Basil is one of my favorite herbs, I just love it, be it fresh or dry. Like it as a topping on pizzas, or in a sandwich with cheese and tomatoes or in pasta and of course in the most delicious pesto. If you are not able to finish the fresh basil, the best way to use it is making a pesto with it. Pesto can be refrigerated safely at least for 2 to 3 weeks and can be used in the same way as fresh basil. You can use any nut of your choice like pine nuts, cashews, almonds or walnuts in it and the whole process takes about 10 mins..
Need To Have
Fresh Basil - 1 cup (liquid measuring cup)
Walnuts - 1/2 cup
Garlic - 2 cloves chopped
Olive Oil - 4 tablespoons
Parmesan Cheese - 2 tablespoons grated
Method
In a food processor, first crush the nuts, then add the garlic and basil. Blend it for a few seconds, then add the oil and the cheese, blend for some more time till everything comes together. Remove and store it in the refrigerator. Use it as a spread on bread, or on pizza and in your pasta.
Note
I used only the leaves of the basil.
Adding salt is totally up to you, keeping it in mind that the cheese has salt in it.
Do not make a smooth paste, I used Kraft Parmesan Cheese Powder (reduced fat).
Now for the awards that was passed on to me by my fellow bloggers, I should have done this long time back, but got postponed because of my laziness, but today I made up my mind to do this.
The Versatile Blogger Award has been passed to me again by
Hemavathi,
Chandrani
,
Viya
,
Lavanya
and
Siris Food
and
Anjana
.
The Leibster Blog Award from
Chitra
and
Reshmi
.
The Happy Blogger Award from
Lavanya
and the Inspirational Blog Award by
Anjana
.
Thank you girls, please do visit their lovely spaces.
I've been tagged by Gayathri Anand of
Kavithavin Kaivannam
, thanks dear, the rules are as follows:
RULES:
1. Post the rules.
2. Answer the questions set for you in the tagger's post and create new set of eleven questions.
3. Tag eleven people and link to them on your post.
4. Let them know you have tagged them.
Now to my answers
1. Introduce yourself
I am Hema, currently staying in the United States with my wonderful husband and lovely daughter, I am from Pondicherry in India.
2. What's your favorite hobby or how do you love to enjoy your time?
I love reading.
3. When it come to blogging, how supportive are your family members?
As supportive as they can be, lettting me to sit long hours with my laptop, and of course waiting for the food till I finishing clicking my pictures.
4. What's is your fav. food?
That'll be a long list, nothing pops in my mind, it's like a whole cloud of things, so let me say it as, anything vegetarian, I am game for it.
5. What inspired you to create a blog?
If I say browsing other blogs, I should have started at least 5 years back, but to tell you the truth, this blog got started in the spur of a moment, nothing was planned, but now it has become an integral part of me.
6. How do u feel while u get an award /Tags from other blogger friends?
Of course, very happy.
7. Talk about food photography..do you judge a recipe by the photo posted by the bloggers? and when searching for a recipe in a search engine like Google, do you look for just recipe or look by images?
A good photo is a feast for the eyes, but I never judge a recipe by the photo. When searching for a recipe, I would like to see a picture, because it would be nice to see how the final product looks.
8. Have you tried recipes from other bloggers? What's the result?
Yes, and till now no regrets.
9. How happy you will be in getting a comment for your recipe?
As anybody else, very very happy, the comments are what keeps me going.
10. How about taking part in events hosted by other bloggers?
I love to, and have been taking part as much as I could.
Now I would love to tag the following friends,
Julie
,
Lavanya
,
Sojo
,
Reshmi
,
Reena Vimesh
,
Srimathi
,
Rasi
,
Swathi Iyer
,
Menaga
,
Rosh
,
Radha
.
Since I loved answering Gayathri's questions, I am going to pass on the same set of questions, I hope it's not a problem.
Now for the awards that I got for participating in events.
Got this lovely E- book from
Teenz' Yummy Delights
and Good Food's Favorite Award for the
Just '4' Fun
event.
And also participation awards from Preeti for her
Color N Sweet - Holi Fest
event and also featured once at Food Corner for the
Midweek Fiesta
event.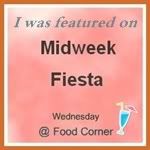 This post has become way too long, but it has been pending for a long time, and I have to thank all my friends for showering me with these awards, I hope I have not missed any. Thank You All So Much!